Online Lessons
&
Personalized Feedback
Develop your landscape painting skills with focused lessons and a personal review of your work from Barbara Jaenicke.
How it works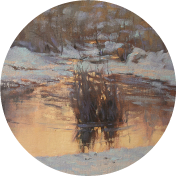 Lesson
After purchasing a lesson, you'll immediately have access to a new area of the Painting the Poetic Landscape website where you'll find the written lesson.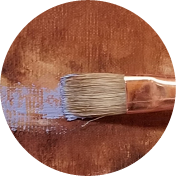 Exercise
The lesson includes written instructions, process photos, and an exercise for you to try. You can use your own reference photo or work from the one included in the lesson.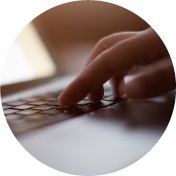 Critique
After finishing your painting, you'll send it to Barbara using the website. She'll review your work and send you a personalized, written critique with tips on how to improve your work.
JUNE 2019 | MEDIUM: PASTEL
Snow Shadows
As with all shadows in the landscape, capturing accurate values for shadows in a snow scene can be challenging, especially when working from reference photos. Since there are additional reflective qualities that come into play when painting snow, important visual adjustments must be made in order to create a genuine sense of light and shadow.
INCLUDES
PDF with written lesson & process shots
Painting exercise and instructions
Personalized critique from Barbara Jaenicke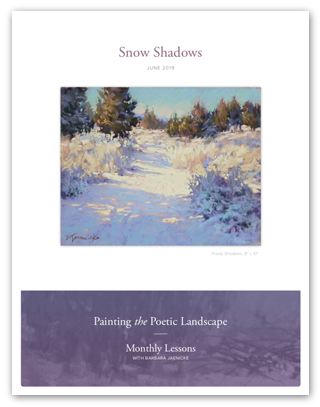 FREQUENTLY ASKED QUESTIONS
Are videos included with the lesson?
No, the monthly lessons are written and provided in a PDF format. Each lesson is 5-8 pages long and includes process shots, an exercise for you to try and the source images for you to paint from.
Do I have to get my painting exercise to you within the same month? Is there a time limit?
Even though the lessons are posted monthly, there is no time limit on when you have to send in your completed painting image to receive feedback. It can be that same month or many months later. If you purchase a lesson, you will have the ability to send in a painting for critique at any time. This also means that if you missed earlier lessons, you can go back and purchase older lessons at any time.
How long will it take to receive my critique?
You'll receive your critique within 10 days of uploading your painting. It'll often be much sooner than 10 days, but depending on Barbara's out-of-town teaching schedule, it could take the full 10 days.
Can I use my phone or iPad to access the lessons or do I need a computer?
The critique form works best on a computer or laptop, but you do have the ability to send Barbara your work if you are just using an iPad or smart phone.
Can I use my own photos for the exercise or do I have to use the provided photos?
You can use either. Barbara provides a reference photo with the lesson, but you're welcome to use your own, and Barbara's critique will then be based on the work painted from your photo.
Is this a subscription service or am I signing up for a recurring charge?
No. Each monthly lesson is purchased individually. That way, if you want to skip a month or aren't interested in a particular lesson, you don't have to pay for it. No need to pay for multiple lessons up front…you pay only for the lessons you want!
Are the lessons shown in pastel or oil?
Barbara varies the medium used in the lessons. Before you purchase a lesson, you'll be able to read a brief description of the lesson, which will tell you the medium used (either pastel or oil) for the process shots. Each lesson will also explain how to use the alternate medium for the topic being covered, so unless it's stated otherwise in the description, all lessons can apply to either medium.
What type of critique will I receive?
Barbara will review your painting and provide a written critique that you'll receive directly into your email inbox. The critique will be between approximately 400 and 700 words, and will be custom written based on Barbara's review of your painting.
How do I know when new lessons are posted?
You can check this website at the beginning of each month to see when a new lesson is posted. But the best way to know as soon as a new lesson is available is to sign up for the Monthly Lesson email list. (See below.)
Don't Miss a Lesson
Want to be notified when a new lesson is posted? Use the form below to receive an email each month when a new lesson is posted.